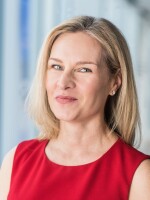 Mary Louise Kelly
Mary Louise Kelly is a co-host of All Things Considered, NPR's award-winning afternoon newsmagazine.
Previously, she spent a decade as national security correspondent for NPR News, and she's kept that focus in her role as anchor. That's meant taking All Things Considered to Russia, North Korea, and beyond (including live coverage from Helsinki, for the infamous Trump-Putin summit). Her past reporting has tracked the CIA and other spy agencies, terrorism, wars, and rising nuclear powers. Kelly's assignments have found her deep in interviews at the Khyber Pass, at mosques in Hamburg, and in grimy Belfast bars.
Kelly first launched NPR's intelligence beat in 2004. After one particularly tough trip to Baghdad — so tough she wrote an essay about it for Newsweek — she decided to try trading the spy beat for spy fiction. Her debut espionage novel, Anonymous Sources, was published by Simon and Schuster in 2013. It's a tale of journalists, spies, and Pakistan's nuclear security. Her second novel, The Bullet, followed in 2015.
Kelly's writing has appeared in the Wall Street Journal, The New York Times, The Washington Post, Politico, Washingtonian, The Atlantic, and other publications. She has lectured at Harvard and Stanford, and taught a course on national security and journalism at Georgetown University. In addition to her NPR work, Kelly serves as a contributing editor at The Atlantic, moderating newsmaker interviews at forums from Aspen to Abu Dhabi.
A Georgia native, Kelly's first job was pounding the streets as a political reporter at the Atlanta Journal-Constitution. In 1996, she made the leap to broadcasting, joining the team that launched BBC/Public Radio International's The World. The following year, Kelly moved to London to work as a producer for CNN and as a senior producer, host, and reporter for the BBC World Service.
Kelly graduated from Harvard University in 1993 with degrees in government, French language, and literature. Two years later, she completed a master's degree in European studies at Cambridge University in England.
NPR's Mary Louise Kelly speaks with actor Sandra Bullock about her new film, The Unforgivable, a story about a woman who leaves prison after 20 years incarcerated and tries to rebuild her life.

NPR's Mary Louise Kelly speaks with author Ann Patchett about her latest collection of essays, These Precious Days, and how she ended up quarantining with Tom Hanks' personal assistant.

NPR's Mary Louise Kelly talks with Charles Coleman Jr., a civil rights lawyer and former prosecutor, about Kyle Rittenhouse, who shot and killed two people, being found not-guilty of all charges.

NPR's Mary Louise Kelly talks with Tori Huster, president of the National Women's Soccer League Players Association, about the long season that was and what's next.

NPR's Mary Louise Kelly speaks with Mark Richards, Kyle Rittenhouse's trial attorney. Rittenhouse was facing life in prison for shooting and killing two men. He was found not-guilty on all charges.

NPR's Mary Louise Kelly talks with Dr. Celine Gounder, an infectious disease specialist and epidemiologist at New York University, on mixing and matching COVID booster shots with an original vaccine.

NPR's Mary Louise Kelly talks with U.S. Special Envoy for Belarus Julie Fisher about the migrant crisis along the Belarus-Poland border.

NPR's Mary Louise Kelly talks with Samuel Getachew, a journalist based in Addis Ababa, about Ethiopia's government telling residents of the nation's capital to prepare for a rebel attack.

NPR's Mary Louise Kelly speaks with Carmen Solana, a volcanologist at the University of Portsmouth, about the impact of the ongoing volcano eruption at La Palma, in the Canary Islands.

NPR's Mary Louise Kelly talks with Rep. Abigail Spanberger, D-Va., about Biden's policy agenda and the future of the social spending package, Build Back Better.