In Flagstaff Community Gardens, Indigenous Plants Thrive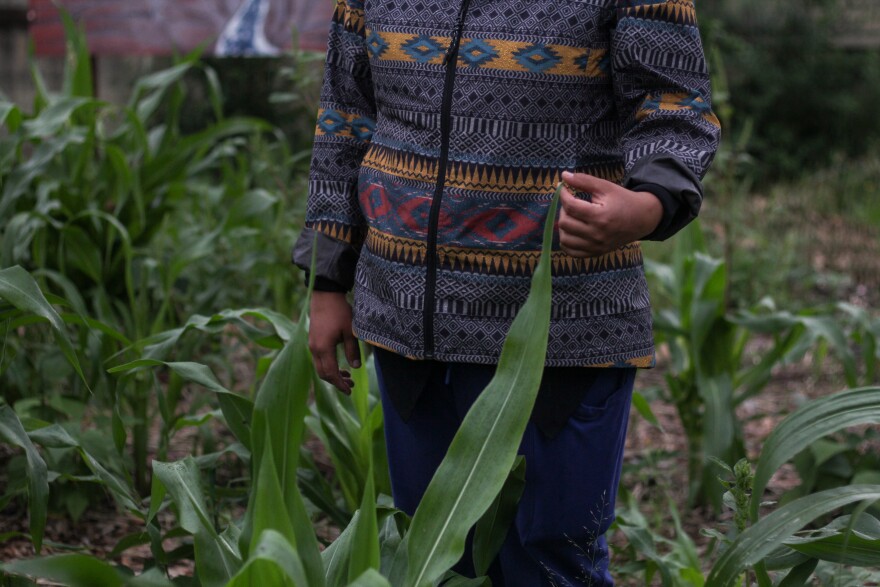 High altitude, years of drought and an early first frost can make gardening a challenge in Flagstaff. But in the city's Sunnyside neighborhood, tucked between a skate park and an apartment complex, Hopi corn is growing waist-high, inches away from ch?il gohwéhí, or Navajo tea.
The plants are a product of Native Americans for Community Action, or NACA. The non-profit is working to reduce diabetes, in part through community gardening. KNAU's Angela Gervasi caught up with Shonri Begay, a health educator with NACA's Lasting Indigenous Family Enrichment Program, to discuss methods and impacts of Indigenous farming.
AG: Would you mind just telling me about where we are right now?
SB: We are at the Izabel Street Community Garden. It's looking really lush and green, the sunflowers are blooming.
We're growing corn, squash, beans, some leafy greens, chili peppers, asparagus.
AG: Could you tell me more about the educational aspect of this?
SB: NACA's Lasting Indigenous Family Enrichment Program is a grant-funded program by the CDC whose goal is to prevent diabetes among Native Americans ... using cultural methods.
It's sort of the opposite of a lot of other diabetes programs where they kind of look for the deficits, like, "What are Native people doing wrong that's giving them diabetes?" And we're really trying to promote the practices that help us to be strong.
We hold weekly volunteer work parties that have an educational component to it. ... We also have gardening space that we steward at the Colton Community Garden.
So, there, we have a much bigger growing space where we're growing Hopi sweet corn.
We're also growing a variety of beans. ... Hopi yellow, Hopi black, Zuni gold, Hopi pink, Tepary beans, which are traditionally farmed by the Tohono O'Odham people.
We're growing multiple varieties of native squashes ... some mystery squashes that have been passed down through the generations.
AG: Okay, so when you say "mystery squash," we can't just leave it at that!
It is what I heard about the squash, that it was found in a cave, I don't know where. In a pot, an old piece of pottery, that is thousands of years old. And the seeds inside were still preserved enough to start growing, again, in this century.
They are heirloom seeds. Seeds that are passed down through families. And these are really important because they represent a lot of the foodways from our ancestors. They can be unique from family to family, there may be stories attached to them. And they continue to provide the biodiversity in a garden that's needed to keep sustaining, you know, life on earth.
AG: Is there anything that's come out of this garden that you've cooked or eaten that you've been particularly excited about?
SB: Well, every time I come there's strawberries that I just gobble up right away! We've gotten a good amount of summer squash this year and I've been making raw squash salads. Usually, I cook zucchini, but it can be eaten raw.
I'll make a little simple dressing out of orange juice and olive oil, and salt and pepper.
I think that food grown in your garden tends to have more flavor. A lot of the food grown conventionally and sold in grocery stores are bred for aesthetics, for the way they look, disease and pest resistance and that doesn't always translate into the healthiest, most nutritious or best tasting food for the consumer.
AG: And I guess just circling back on what you said about not focusing on deficits. You know, what do you think is the importance of that?
SB: I think that Native people have heard what's wrong for most of their lives.
People have heard this story and they've internalized a lot of our health deficits as personal failures.
That's not productive for anyone, no matter what the issue is. I think people really do better by finding those things that make them stronger and make them proud and make them feel like they have power over their destiny.
Shonri Begay is a health educator with Native Americans for Community Action's Lasting Indigenous Families Enrichment Program. As the summer draws to a close, NACA is continuing to hold Indigenous gardening events in Flagstaff.